Shopware 6 - Online shops from Leipzig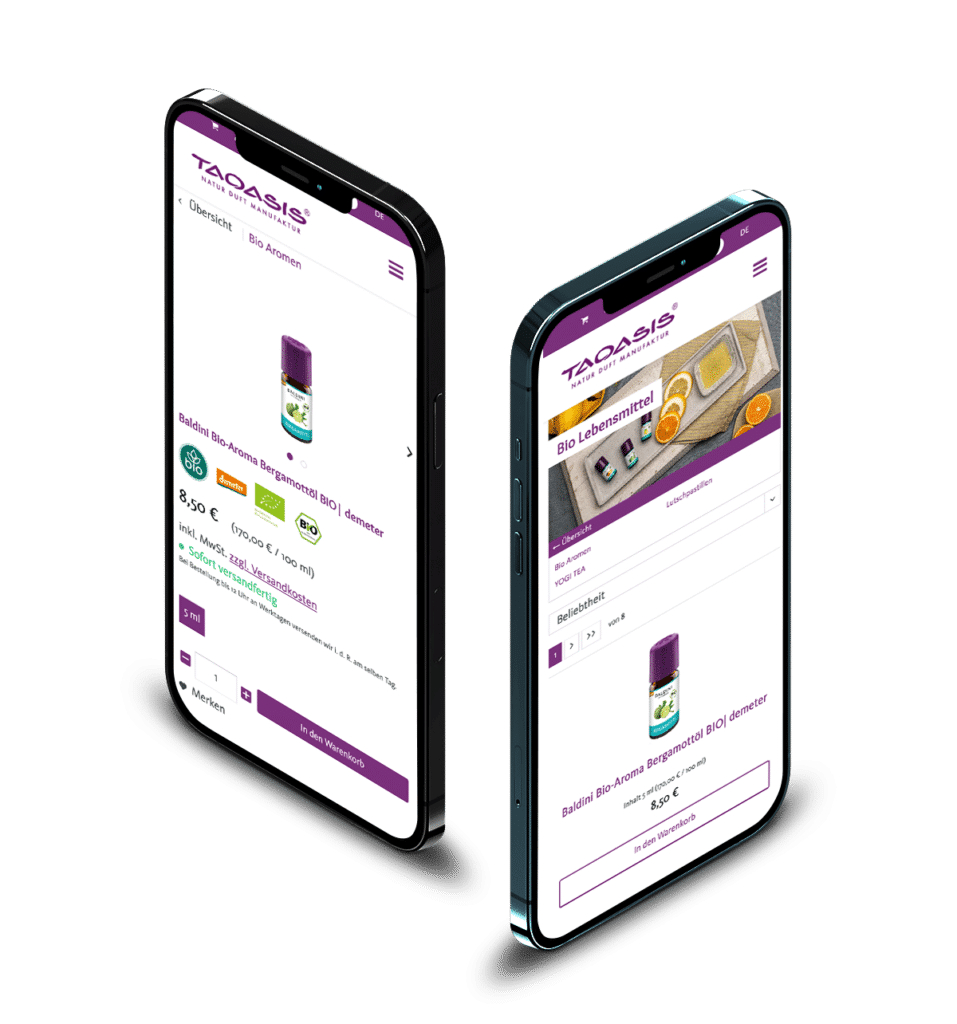 We have been creating professional shops based on Shopware 5 and Shopware 6 for over 5 years, enabling our customers to sell products from many different sectors. Shopware, just like our Internet agencycontinuously further developed and has Positioning in the German-speaking region greatly expanded. Shopware is a comprehensive and stable solution for professional and scalable online retail.  
Overview of Shopware services
Shop concept
At the beginning, the central work step
The design of a Shopware online shop is the central work step in the first third of a project. This is where we process the information gained from discussions with customers, information provided and our own analyses, as well as our experience from more than 10 years of web design and shop development. Visibility in Google searches is already planned in this phase. Search engine optimisation (SEO) is therefore always part of the process for us and not an additional service.
Shop design
We design your Shopware shop
Web design is one of our core services. Whether visual language, typeface or logo development, we provide you with a complete and modern web design for your Shopware shop. But a successful web shop needs more than just a stylish appearance.
For us, good webshop design not only means creating a pleasant user interface, the web design also includes a sensible page and menu structure as well as intuitive usability on all devices and screen sizes.
Hosting
We design your Shopware shop
The self-hosted Shopware 5 and 6 require a server on which the files are stored. Hosting refers to this service, which we naturally also offer for your Shopware shop. In addition to outstanding performance (which has a positive effect on the loading speed of your shop), you will also receive regular data backups and a 24/7 monitoring of the webshop.
Shopware connection
To your merchandise management or marketplaces
We connect your Shopware shop to both your already existing Merchandise management or your ERP system as well as to all common marketplaces such as Amazon, eBay or Etsy. This means that the existing Shopware interface can be used to integrate systems from SAPSage or JTL can be connected directly or indirectly.
The indirect connection works via "middleware", which acts as a link between merchandise management or the marketplace and the shop. Orders, stock and product data are synchronised in real time.
Shopware migration
From xt:Commerce, Magento, WooCommerce, Gambio or Shopify
We transfer your existing shop from Magentoxt:Commerce, Gambio, Shopify or WooCommerce to Shopware. We not only transfer the product data and images, but can also migrate your customer and order data. Automated migration is particularly recommended for shops with many products (> 100).
Search engine optimisation
SEO for top rankings on Google & Co.
The Search engine optimisation (SEO) for Shopware shops is one of our core competences. The smartest web design is usually of no use to an online shop if it does not appear in Google searches. In order to save costs and work efficiently, search engine optimisation is an essential service right from the start of the project, which can have an impact on the page structure, content and functionality.
Removal service
Relocation service for Shopware shops
Hosting is essential for the security and speed of a shop. However, there can also be other good reasons for moving a Shopware shop. The effort involved depends on the size of the site and the current server environment. In addition to the shop, the domain and email inboxes may also need to be moved. To avoid downtime and negative effects on your Google ranking, we offer you a professional relocation service for Shopware shops.
Shopware training courses
So that you can manage your shop yourself
For many companies, the webshop is a critical factor for the company's success. It is therefore logical to have the expertise to update the webshop and efficiently process orders within the company. In our training courses for groups or individuals, we show the more important functions of Shopware and clearly explain the connections between technology, design and search engine optimisation.
Customer testimonial selection
Customer quotes about us and our work
laOlaWeb proved to be experts in all aspects of WordPress, SEO and web design. Even details that only emerged in the course of the development process were professionally incorporated.
The internet agency laOlaWeb has converted our website to WordPress and achieved an excellent result. The content adapts to the small screen sizes of smartphones.
Competent and pragmatic approaches to solutions were presented and also implemented. Tobias Ebert was able to forge a convincing digital concept from our traditional craft and the real products.
From a tender of 8 WordPress agencies, laOlaWeb was/is by far the fastest, most effective and customer-friendly agency. Therefore thumbs up and 5 stars! Absolute recommendation.
I felt super understood by Mr. Ebert and he was able to implement the project in a short time. Highly recommended - even for demanding projects! Top cooperation and great commitment from laOlaWeb.
The implementation of the content according to my wishes was extremely fast, reliable and prompt. The service and communication with him were pleasant and productive at all times.
A reliable partner for professional product and project management for squeaker.net. With measurable results: Tobias Ebert has broad knowledge from SEO to Analytics to technical details.
Working with laOlaWeb is constructive and uncomplicated. They simply know what they are doing and can advise us extensively on all relevant online topics. With measurable success.
Our promise for cooperation
Look forward to constructive cooperation
For new shops with Shopware 6, we provide you with a fixed price offer that we honour 100 %.
You have a fixed contact person for the entire project - and beyond.
We plan our projects and tasks realistically and guarantee timely implementation.
We don't sell you anything you don't really need, and we give you open and honest advice.
Advantages of a Shopware shop
B2C, B2B or a combination
A major advantage of Shopware is the ability to define different customer groups, e.g. B2C or B2B. Different settings, such as product prices, gross/net prices, minimum order values etc., can then be assigned to the customer groups. This allows you to offer your resellers an attractive online shop with customised conditions in addition to your shop for end customers. 
Legal certainty Shopware shop
GDPR, wave of warnings, data protection and Google Analytics. The legal security of a Shopware shop is an important topic - and not just since the GDPR. As Shopware is developed by a German manufacturer, many requirements are already included in the standard version.
With the right tools, selected plugins and our knowledge of current case law, legal security for 95 % of all webshops is no witchcraft. Certification as a Trusted Shop, for example, is no longer a problem. For complex data collection and processing, we work together with data protection specialists.
Bi- or multilingual Shopware shops
Creating a webshop in two or more languages is not uncommon these days. With Shopware, multilingualism is therefore already included as standard. All texts, images and other content can be easily translated using the text modules. This is a major advantage over a shop solution with WooCommerce, where an additional extension has to be installed.
Common languages such as English or French are less time-consuming than Arabic or Chinese, for example. The texts can be translated by us, by you or by third parties. 
Prices for Shopware shops
We offer our customers fixed prices for the new development or revision of Shopware shops, which we always honour.
In order to provide you with a quote, we require a preliminary discussion or a detailed written briefing. The preliminary discussion and the quotation are free of charge for you.
In principle, our fixed price offers are also based on the estimated amount of work. The following prices are therefore only indicative and non-binding.
| Scope of the shop | Redesign | Revision |
| --- | --- | --- |
| up to 30 pages/products | from € 5,500 | from €2,500 |
| up to 200 pages/products | from € 9,000 | from €3,000 |
| with multilingualism | + 1.500 € | + 1.000 € |