Search engine optimisation (SEO)
Free visitors from Google & Co.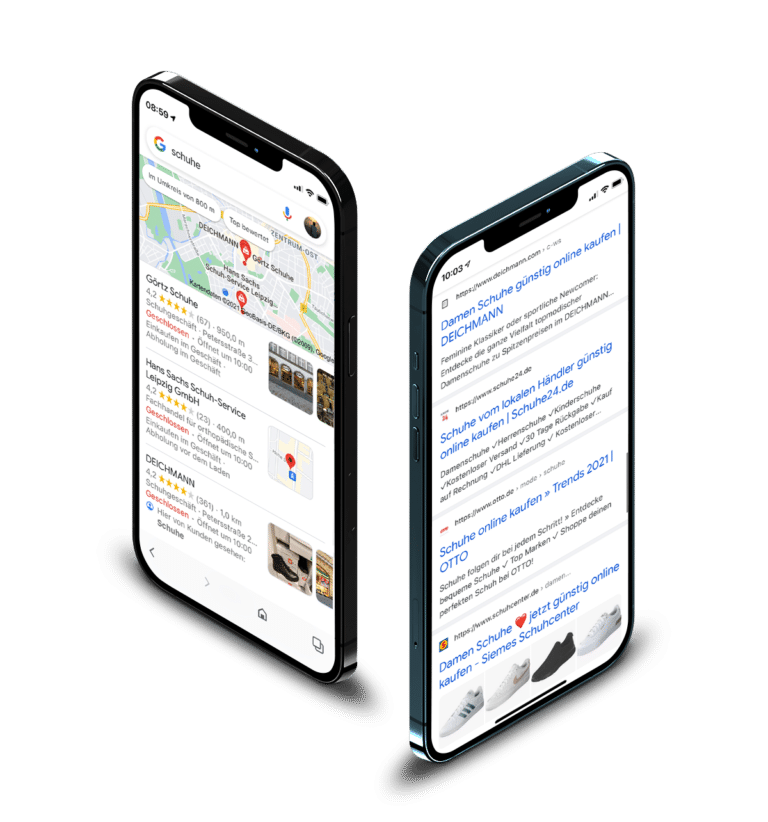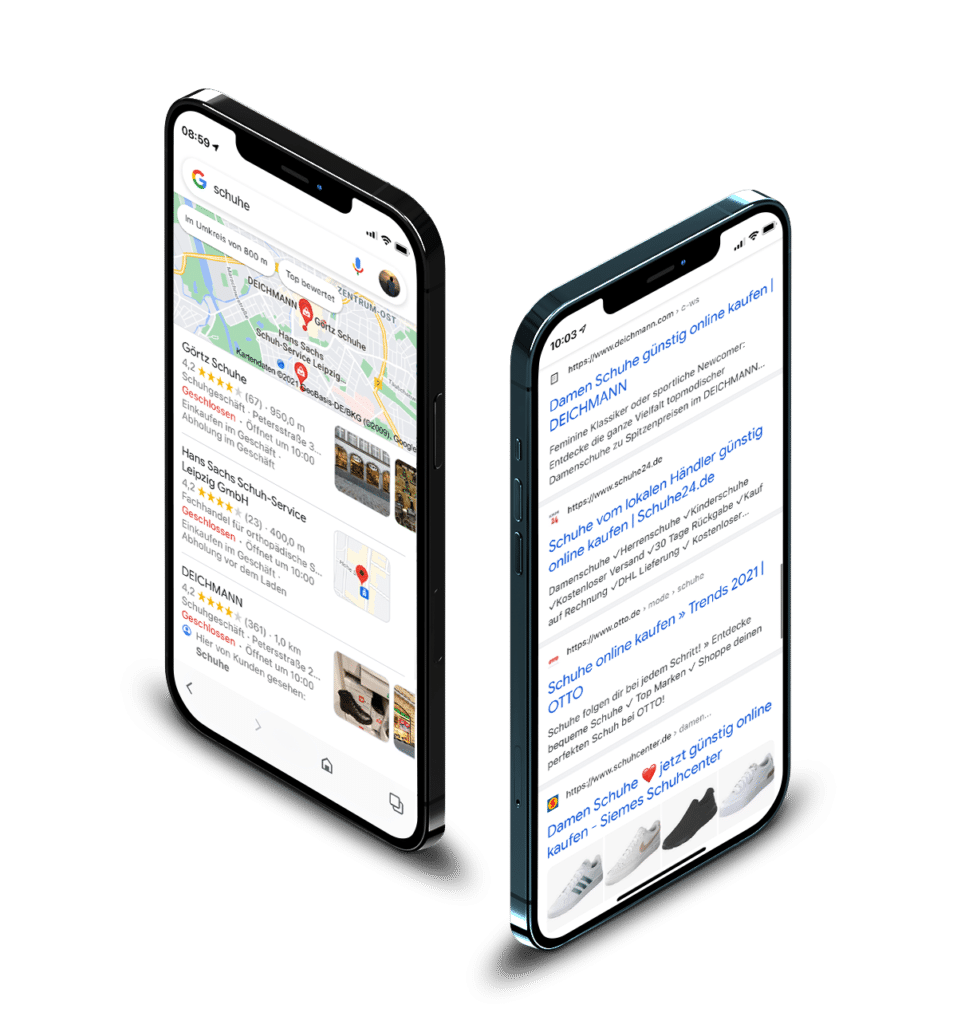 Better placement on Google
The Search Engine Optimisation (SEO) is an attractive way to make your target group aware of your offer on the Internet. As the traffic via this channel free of charge it is very popular and the top places in the rankings on Google & Co. fiercely contested. In contrast to the paid adverts (e.g. Google Ads), the costs for SEO should therefore be seen as a long-term investment.
As a first step, we will be happy to advise you on where a A sensible investment and support you in implementing and monitoring the measures. 
Our search engine optimisation process
SEO for WordPress websites
Thanks to our many years of experience in search engine optimisation (SEO) for WordPress pages we know about the possibilities and challenges. The good news is: WordPress sites can generally be optimised very well for search engines such as Google. When it comes to search engine optimisation, we work with with these guiding principles:
No rankings without content.
No control without structure.
No success without measurement.
Prepare existing content for users and crawlers
Content (texts, images, videos, products or other offers) is of course independent of the CMS (content management system). However, the WordPress CMS helps to present the content to the user in an attractive way and to optimise the metadata. By metadata we mean, among other things
the title tag of the page,
the meta description of the page,
the alt tag for images and links,
structured data (addresses, locations, FAQ, etc.).
This metadata is important for the user, but also for the Google crawlerbecause the easier it is made for the Google crawler, the more content can be indexed become.
Structure via navigation, URLs and headings
In addition to the content, the Structure of the website a decisive success factor for successful SEO. WordPress already offers the most important functions here as standard:
readable and hierarchical URLs,
Simple labelling of headings,
Simple creation of menus.
With a free SEO extension (plugin) for WordPress, such as Yoast or Rank Mathfurther SEO functions for the WordPress site can be added:
Add metadata (especially title tag and meta description),
Create and submit XML sitemap,
Redirect from old to new URLs.
SEO tools to track changes
More contacts or more orders are of course the best thing Indication of successful SEO. However, in order to measure the effects of the measures or the current status, other tools, some of which are chargeable, must be used. We recommend the following tools to our customers for SEO-relevant websites:
Google Analytics (free of charge, note GDPR),
Search Console (free, from Google),
Xovi, Sistrix, Seobility or similar (for a fee).
We are also happy to train our customers in the relevant tools so that they can visualise the success themselves and derive further SEO measures.
SEO for WooCommerce shops
Large parts of SEO for websites are related to SEO for WooCommerce shops identical. Nevertheless, there are differences in the procedure and in the measurement.
Focus on product and category pages
The focus of search engine optimisation for online shops is usually on the product and category pages, i.e. pages on which the user can order something should be placed in the Google ranking. We achieve this by emphasising the following measures:
Structured data on product features (including FAQs where applicable),
informative product images including meta labelling,
Meaningful product description including URLs and metadata,
Integration of an evaluation system (reviews).
Sales directly traceable
For websites that aim to generate leads (i.e. make contact), it is difficult or even impossible to trace the source of an enquiry. It is much easier in online shopping. Due to the Defining conversionse.g. via Google Analytics or the Google Tag Manager, paths can be traced and thus, for example, the monetary value of a visitor can be determined.
Avoid "crashing" during revisions
Whether it's a website or a shop, in both cases, when redesigning or revising, the Use of the existing rankings should be taken into account. Many website operators wonder why enquiries or orders decline after a redesign, even though the new version is much more appealing or more comprehensive.
The reason: The old URLs are still ranked in Google search or are linked from other websites.
The result: The new website shows a 404 error page and the user cannot find what they are looking for. Google will take this as a negative sign and penalise your new presence for the time being.
The solution: We create 301 redirects for every project in which existing structures (URLs) have been changed. This means that the old URL is mapped to the new URL or redirected to another useful page.
Customer testimonial selection
Customer quotes about us and our work with WordPress
laOlaWeb proved to be experts in all aspects of WordPress, SEO and web design. Even details that only emerged in the course of the development process were professionally incorporated.
The internet agency laOlaWeb has converted our website to WordPress and achieved an excellent result. The content adapts to the small screen sizes of smartphones.
Competent and pragmatic approaches to solutions were presented and also implemented. Tobias Ebert was able to forge a convincing digital concept from our traditional craft and the real products.
From a tender of 8 WordPress agencies, laOlaWeb was/is by far the fastest, most effective and customer-friendly agency. Therefore thumbs up and 5 stars! Absolute recommendation.
I felt super understood by Mr. Ebert and he was able to implement the project in a short time. Highly recommended - even for demanding projects! Top cooperation and great commitment from laOlaWeb.
The implementation of the content according to my wishes was extremely fast, reliable and prompt. The service and communication with him were pleasant and productive at all times.
A reliable partner for professional product and project management for squeaker.net. With measurable results: Tobias Ebert has broad knowledge from SEO to Analytics to technical details.
Working with laOlaWeb is constructive and uncomplicated. They simply know what they are doing and can advise us extensively on all relevant online topics. With measurable success.